Updated: August 8, 2022
Introduction – Sell-iT
In this review, I am going to talk about a new book and its contents called Sell It. But first what is this book about? Does the title live up to its true name?
Sell-iT, by Cyndy Venom is about selling digital products online for immediately profits. Let me clarify. What that means is, this book introduces you to as many as five different methods of selling. Some of these methods are easily recognized, other methods are not so clear. What is really interesting is that the book tells us that bloggers utilize ore or more of these methods do all the time. They start a blog and some how successfully walk away on time, selling you their product blueprint but they do not actually tell you the look, the feel, the how.
Sell-iT is different.
From the very beginning you are told you are told your blog should be selling something and the creator does not fool around the subject and then you are expected to sell something choosing one of the methods. This is certainly way different than other books that ask you to test, wait, test- thus waste your time where you see (you either give up or walk away attracted by something fresh and new).
Successful bloggers utilize platform to talk about their success in products being sold to a hungry audience today and right now. Literally every metaphor in a review of the author, the products which is their livelihood is about their product.
Would You Pay $30 For This Skill?
Let me ask you a question? How much would you pay to have someone teach you in a few hours what you need to DO start generating profits in a few hours? Is your answer $700 or $300 or $100 an hour? Or would you be willing to pay without question $40 dollars. The fact of the matter is, bloggers who blog for profit are willing to pay a few investment dollars if the required skills are transferred readily. But what of those folks that are camera shy or are introverts. What of them? Answer: You are very lucky because- this book is nothing like you have ever seen. No one is expected to show their face when selling- period. What's found inside is something very different . Products of this caliber use workbook training materials and the cheat sheet for quick and hard action takers.
But look here: There are a variety of tools you can use to build your portfolio to Sell It and one of the tools of the trade is the: Olympus VN-541PC | With PC Link 4GB Black Digital Voice Recorder.
It's an inexpensive recorder that can be found very easily online selling for less than $20. The perfect voice over companion.
Here is a link: https://www.walmart.com/ip/Olympus-VN-541PC-With-PC-Link-4GB-Black-Digital-Voice-Recorder-Renewed/951239640 | This suggested tool is a recorder, that connects to your computer via USB cable.
You record your audio, add it to video or edit the audio via a FREE software called audacity. This is the biggest authorized must have tool in your arsenal.
Why buy Sell it? Who Is It For?
If you have just started your blog for the sole purchase of monitoring it, you need Sell it. Not only can you begin selling your own products immediately but also as an affiliate the cardinal rule out there is that by week three upon sending traffic to your blog, sales are bound to begin rolling in. Sorry, buyer traffic is not encouraged here while FREE traffic is. The formula states that generated traffic is hard earned traffic and that means traffic that is not bought. No worries about FREE traffic generation here because only Pinterest traffic is elaborated on and for good reasons.
Scared or Fearful And No Need To Be!
Sell iT includes a workbook, cheat sheet and verbal judo called confidence, all inside ready for you to enjoy and put through its paces. The book is illustrated for visual learners and to ensure readers get solid visual clues with each concept. This book is not one you read and then put away, but rather excellent food for thought an a power house for your product activity.
What You Get Inside?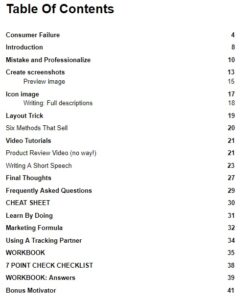 Sell-iT has an interesting table of contents, so rather than go over every subject matter inch by inch, you can check out the table yourself.
Beginners and bloggers who have not made a single dime will definitely appreciate this helpful book. "Learn my doing" is an unusual chapter that helps and teaches what you need to do. Because of page "34 – Using a Tracking Partner" which has nothing to do with another person but more so about tactics used to not only track but stay on the tray by keeping tabs on your assets.
Evergreen Product
Selling IT is an evergreen product. What that means is, no matter what time of the year this product is offered at a discount this is one product that will never become seasonable. With that said, you need not worry about when to apply the contents of Sell It. To make a buck- the knowledge inside can be used all year long. The best products (for sale) that work for bloggers year around are what are called evergreen products.
Of course there are some products that are sold year round that 8 months out of the year lose their desire, but holiday products see much, the light of day during the holiday season.
Sell-iT available @ $40 | Free excerpt of Sell-iT available (here) |Two Bonuses available when you purchase Sell iT. (here)